We are currently funded by Bradford Council's Public Health team. We are visiting and documenting food growing projects across Bradford to to raise the profile of food growing and to inspire other growers and a community led growing approach.
We hope you will find resources, share ideas, and generally help us increase the presence and popularity of food growing in Bradford.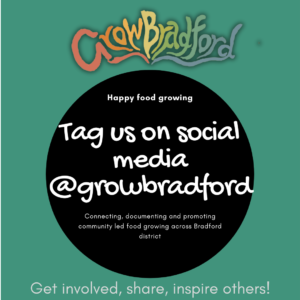 See our pages designed to support you in your growing whether you are an individual grower, an allotment grower, a group or community organisation or a larger more formal organisation.
We also have a separate resources page where we share useful information about where you can share and learn, and find items you might find useful.
We also share inspiration via a blog where we host other growers and help build the growing community! Let's get growing!
As far as possible we focus on raising the profile of activity in Bradford.  Where useful, for example, for technical information or resources, links are included from further afield.