A group of people with a desire to work with Forest Schools; early years practitioners; nursery and primary school teachers; people working in gardens and food growing projects; spent 3 days together exploring, learning, playing in the woods together using the Forest Schools approach.
We were on a Forest Schools level 1 training course with Lily from Kindling Play and Training an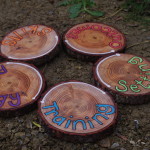 d were quickly able to learn each others' names, bond and get involved in working together through cooperative games which used the senses (making shapes as a group with a rope with our eyes closed), imaginative play (jumping around as 1 wing of a pigeon!) and generally observing lots of tiny and great details of our surroundings and interactions with one another.  We learnt about the 5 elements that make up Forest Schools: Setting, training, pedagogy, outcomes and skills.
Throughout the 3 days, we sharpened and whittled sticks, made baked 'toffee-like' apples with them over a fire, carefully assembled and lit with a spark from a flint and steel.  We put up shelters, used knots to make frames which we filled with 'earth pictures', played the 'web of life' game, and observed the range of biodiversity all in a small patch of woodland edge.  Some people made leaf prints onto cloth, climbed trees and we all made wooden mushrooms and medalions for ourselves.
Of course we also learnt this in the context of the forest schools pedagogy which carefully intertwines physical, sensory, intellectual, social and emotional learning with safe use of tools and a fun approach to 'being' in the woods.
It was a refreshing reminder of why I am involved in working outdoors and how much working w
ith natural systems and natural materials can help to calm the mind, allow conversations and sharing to flow naturally.  It also reminded me how much can be achieved by involving our whole being in activities that remind us we are part of  natural systems and also of our great need to know them and respect them.  I am looking forward to level 2 and working with others and sharing this approach with children.
To see some more pictures of the Forest Schools Training please visit the gallery here.  If you would like to know more about Bradford Forest Schools Network click here.